Post failure analysis can be like searching for a needle in a haystack! Expensive equipment, such as electron microscopes are often necessary, and the small field of view makes it hard to localize the failures. For this reason, a large proportion of market failures go to the "no failure found" bin, without understanding how to prevent the failure to occur again.
Intermittent malfunctioning of an electronic device, occurring at the event of high humidity or condensation is a common type of failure in electronics. It is often categorized as a no-fault-found as evidence of condensation and tiny amounts of tin (Sn) corrosion products is hard to detect. Moreover, visual inspection of printed circuit boards using optical microscopy not always provide unambiguous conclusion, as the appearance of tin hydroxide precipitation is similar to the appearance of the flux residues.
Tin Rat is a new test method enabling an easy analysis of corrosion failures on your printed circuit boards.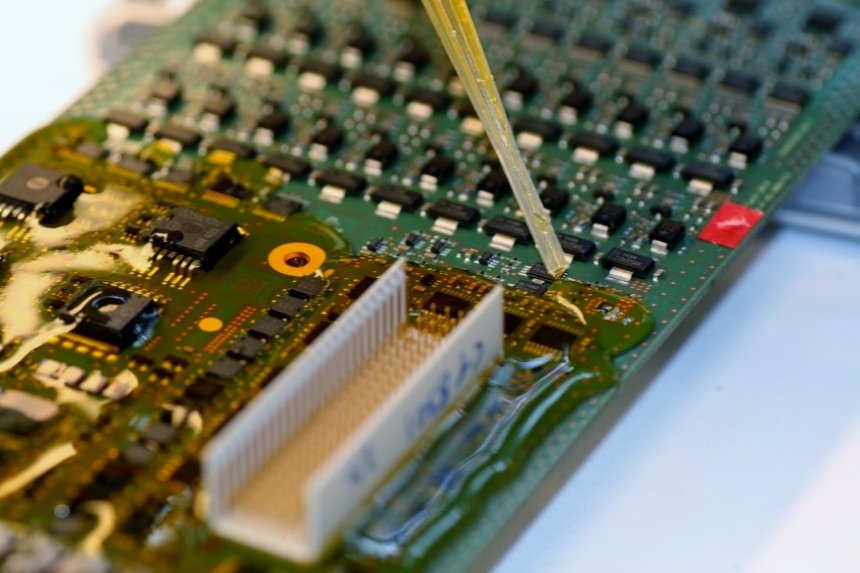 1 ESD proven package of Tin Rat test kit includes:
1 bottle of Tin Rat gel
2 trigger sprays
Gloves
Extra dispensing pins
Please note that microwave oven heating is needed in order for gel to be sprayed. The gel will remain hot (use gloves) and ready to use for at least 30 minutes.
Worldwide shipping up to 5 working days with FEDEX
(local tax/customs may apply).
Price is shown without VAT. When shipping address is given during the ordering/checkout process, VAT will be automatically adjusted. For EU companies: Remember to add your valid company number in order to have the VAT deducted, otherwise Danish VAT will be added.
What does the blue coloration on the PCBA indicate?
The blue coloration appeared after application of Tin Rat gel indicates presence of tin ions and tin hydroxides as a consequence of tin corrosion of the PCBA. Typically, it can be corrosion of solder joints, terminations and legs of surface mount components. Presence of tin corrosion products on the PCBA is a clear indication that electronic board was exposed to high humidity under bias conditions, while ionic contamination on the PCBA, such as flux residues, act as a corrosion-accelerating factor.
What is the difference between Tin Rat and Residues Rat?
Residues Rat detects highly flux contaminated areas on the PCBA, which act as corrosion accelerating factor via lowering RH for water condensation and increasing surface conductivity. However, the question whether the detected residues will pose a risk for current leakage and corrosion failure can be answered by performing Tin Rat test thereafter climactic testing of device under desired humidity/temperature condition. Tin Rat will easily reveal areas/components, where dissolution of tin has taken place.
Activator type, commonly weak organic acid(s), in a no-clean flux system irrespective of re-flow or wave soldering process, has a great influence on corrosion. It shows the dependency on the RH and temperature condition when a significant reduction in SIR, and corrosion will occur.

Appearance of SIR patterns after climatic testing (per-contaminated with various flux systems, activator type of which is indicated in the brackets)
The extent of corrosion which occurred during climatic exposure can be easily visualized by Tin Rat gel, and it greatly correlates with SIR test results. However, the main advantage of correlation between Tin Rat and leakage currents is utilized when analyzing PCBA of which direct measurements cannot be taken.

Appearance of SIR patterns after application of Tin Rat gel
Feedback on Tin Rat from Robert Bosch
The activation of the product we were realizing applying a microwave. There were no complications regarding the processability. Afterwards we applied the chemical to a SIR board with a lot of Sn corrosion products on the comb structures and beside them. I have to mention that these kind of "dendrites" mainly consist of tin salts of low solubility.
Following are the results and impressions: 1) the chemical has to be applied very carefully due to spreading of the corrosion products by the liquid flow, 2) detection of tin corrosion products of low solubility was not possible, 3) corrosion residues on comb structures could be clearly detected, 4) fast assessment possible without big effort 5) good transparency of the base material of Tin Rat, 6) Tin Rat test has to be done at the end of an analysis chain (PCB is not capable for further analysis).
"Corrosion residues on comb structures could be clearly detected. Fast assessment possible without big effort. Good transperancy of the base material of Sn rat."
Pierre Eckold about Tin Rat product

The Tin Rat test is easy to do, but some clients prefer that we do the test for them. When ordering this product, you can send up to 5 PCBA's for analysis.
After receiving the PCBA's, we will do the Tin Rat detection test and send you the results within a maximum of 2 weeks.
EC-RAT will clean the PCBA's with DI water and a soft brush. After sufficient drying, the PCBA's will be returned to the shipping address provided in the order.
EC-RAT ApS does not take any responsibility to the functionality of the tested PCBA's after the Tin Rat test, and will not be held responsible for any lack of functionality of the PCBA's nor will EC-RAT be held responsible for any likely or unlikely accidents, personal injury, death or any other damage or financial loss suffered, that might be a consequence of malfunction of the tested PCBA's.
SEND FOR TEST